Video Transcription
I'm not going to lie, this… this is my, so far in 2022 my favorite toy no cap, no cap? my favorite toy.
for those who don't know us, I'm Shani, I'm tony and we are the owners of Harts Desires online, no, we have an online store and we have two stores in a DMV, yes.
Today we are reviewing the NŌS cock ring by Fun Factory, yeah, it's the it's definitely the bob.com, you're so old, you're so old, but we tested this out… I still got, my allergies are bothering, we tested this out last week and… I was really surprised I'm not even gonna front because a lot of times cock rings they don't, they don't do it for me, if you're the person with the clit, usually they just don't do enough, it's not enough vibration, there's not enough contact.
First tell us the specifics about it, okay it has a four plus one vibrate vibration level so that's low medium-high and then the fifth one is pulsating, it has a nice comfortable ring for the shaft but it also has pressure points inside so that way when the shaft is inside of it, it actually pinpoints to actually help to delay the orgasm and keep the blood to stay in the shad.
You can wear behind the balls if you want even a little bit more constriction or wear it on the shaft, yeah that's pretty it stretches pretty good so you could be able to do that.
It's 100% silicone so you can clean it easy, it comes with a nice magnetic I love the magnetic uh charging ports, USB charging port and it comes with a storage bag to keep it nice and clean in between uses.
So, my favorite position when using the cock ring is me on top, because I could control how much vibration I'm gonna get, cause say he's on top or doing it from the back or whatever the case may be like I'm only getting the sensation when the cock ring comes in contact with my clit, I'm somebody and there's a lot of women that like me too that need clitoral stimulation to have an orgasm and this oh my goodness this is the ticket.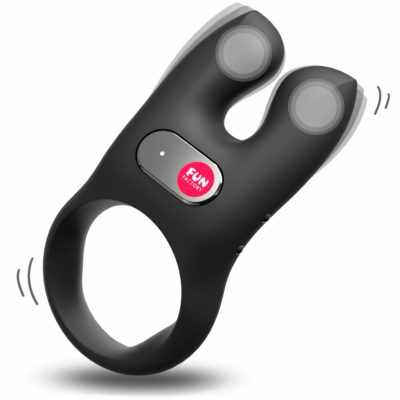 So, when I was on top, first we used some lube some water-based lube, we used our CBD wet lube, put that on so everything's nice and sliding because I wasn't… when I looked at, I was like "these are really close together" I was like "I don't know if it's going to hurt my clit" so I wanted everything to be sliding nice.
I got on top and it didn't take me long to find the good position, I sat on top and moved around a little bit was like oh…damn it and I just you know I was grinding if you're someone that likes grinding on it, you're really gonna enjoy this. so, I grinded on it and with… less than two minutes I had to orgasm which cock rings don't do that for me at all so this was everything, so it has only a certain ones.
It has both of these little legs, it looks like little pants when it's like this, both of these little legs have a motor each side so two motors and the way that I liked, my clit just went right in the middle, so it was like vibrating against both sides of my clit, it was everything, I really liked it.
How was it for you? I was just it actually I could feel a vibration but for me, it was more so like focused on pleasure for you so I really didn't… because it was kind of… that session was kind of fast, yeah, it's kind of fast, it's kind of fast though for her to come you know said twice and like well it felt like 1.2 seconds it was it was over.
Yeah because once that orgasm the first time I was like okay do it from the back I want to feel it again and you know there it goes again.
But you can use this not only just for penetrated sex, like you can have this hold this in your hand wear it and use this as a finger vibrator, using different places, it's awesome to use when you're giving your partner, your partner has a penis giving them a blowjob, put this on, sit these little nubs down towards his balls gonna give him some extra vibration.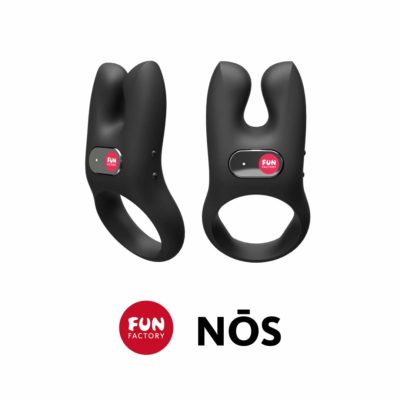 If your partner uses a dildo you could put this on the dildo, and still use it. So, there are lots of different ways that you can use this besides just having it for penetrations to conquering I really like that too.
Another good part about it at least for the person who's wearing it or who has it on, to hit the button to control it so this right here will face the body so pretty much when I'm going at my partner, it's gonna face like this where you're gonna see the solid black side and it has that little angle on it so that way it can push towards the partner's body, so it'll sit like that for penetration so that way you'll be able to go back and forth.
Easy to control, simple, life is good… in different positions, if you're someone man on man sex you can put this on, turn it the other way, you're going to turn it one way for missionary, you're going to turn a different way if you're doing anything anal, doggy style, things like that.
This is this toy is great for all genders all positions do so many different things. So out of five stars I I'll give this a five, I'm not gonna lie this is a five.
This is the Fun Factory NŌS vibrating cock ring, get it on our website, it's also available in both our stores.
That's right we're all freaks to get on the elevator, only difference between us, this is which floor we get off on and if you like us, you get off on every floor just to see what's going on.
As always stay sexy my friends.