Clitoral suckers claim to be able to replicate the feeling of oral sex without the need for another person. But do they work and are they actually worth the hype? Let's see!
Clit suckers, clitoral stimulators, suction vibrators, oral sex stimulators, or whatever you want to call them; they're all the rage these days and it's pretty clear why. Clit suckers are intended to mimic the sensation of a mouth sucking and blowing on the clitoris and vulva, thus aiming to replicate the feeling of oral sex. Sexy, right? But how exactly do they work? Unlike traditional vibrators, most clit suckers don't actually vibrate on the clit. They suck, pulse, and vibrate around the clit. This increases blood circulation to the clitoris and the vulva which stimulates the nerves to increase sensation and sensitivity, build arousal, and deliver mind-blowing orgasms! 
Whether you have little to no experience with toys and don't know where to start or you have lots of experience with toys and know exactly what you want, clit suckers can work for you.  These toys come in all different shapes and sizes, but all of them will have some sort of cylindrical tube-shaped nozzle. Although they can look intimidating, they're very easy to use. Once you start to feel the toy do its magic, all your fears will wash away. To use your clit sucker, you will position the nozzle around the clitoris, or other sensitive areas you might enjoy, and the toy will suck, pulse, and vibrate around the clit. It's pretty simple! All you need to do is find your desired pattern and/or intensity on the toy, apply some lube, position the nozzle around your clit or other sensitive areas, and let the toy take you to town! They're very easy to use with little to no learning curve. 
Because suction toys utilize indirect stimulation, they're great for people with sensitive clits. For some, direct contact to the clitoris can be too strong, overly stimulating, and even numbing. If you struggle with finding a vibrator that isn't too strong, clit suckers are the perfect toy for you. The indirect stimulation is subtle but it gets the job done and it does it well. Intimacy Coach and Director of Education at Satisfyer, Megwyn White, describes the feeling as "unlike any other stimulation than [many clitoris-owners] have felt and actually draws out the clitoris to play and partake in deeper levels of trust and surrender while inviting the whole body to open to receiving waves of orgasm." This subtle and indirect stimulation means the toy is perfect for people with sensitive clits and can even result in fuller and deeper orgasms. However, these toys can still be amazing for people who require or love a lot of stimulation. Many clit sucking toys come with multiple speeds, vibrations, and intensities, so you can tailor your toy to perfectly fit you.
Clitoral sucking toys can make masturbation a breeze, but that's not all they're good for. They can also be great during playtime with a partner. Many vulva owners struggle to climax from penetration alone. In fact, a study published in the Journal of Sex and Marital Therapy found that only 18% of women can reach climax from vaginal penetration alone. This means that clitoral stimulation is essential for many people with vulvas. And because of the nozzle-shaped design, most clit suckers are non-intrusive and great for dual stimulation. This means you can use your clit sucker and not have to worry about it getting in the way of your partner! They can also be used during foreplay to build arousal and loosen your body up for penetration. They really are the perfect multifaceted toy!
Check out some of my favorite, recommended clit suckers to find your next favorite toy!
Sona Clitoral Sonic Massager by Lelo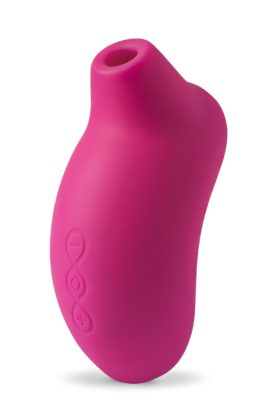 This clitoral massager uses sonic waves to stimulate "75% more of your clitoris" than with traditional vibration, so you can also stimulate the parts of your clit that you can't see. This toy is pretty strong, so I wouldn't recommend it for people with high clitoral sensitivity… unless you're into that. I recommend this toy for people looking for strong suction and intense play. It is a rechargeable toy with eight settings. It's also completely waterproof, so feel free to take your fun to the shower or hot tub. It also comes with a USB charging cable, a satin storage pouch, and a 1-year warranty so you don't have to worry about breaking the bank if you break your toy.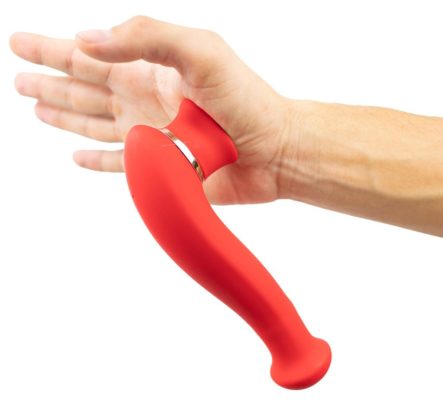 The Destiny by Maia is a clitoral and g-spot stimulator that also features vibration and a  tongue flutter. It has three motors that can be controlled independently or simultaneously for as much or as little stimulation as you want. Furthermore, each motor has 15 different patterns, which means the possibilities for this toy are endless. One end of the toy features the sucking and vibrating functions along with the tongue flutter for localized pleasure while the other end functions as a vibrating wand or even a g-spot stimulator! It is worth mentioning, the tongue does not move on its own, but you can feel the fluttering of the tongue by manually brushing it up and down against your clit or vulva. This toy is my current personal favorite, because of how versatile it is. The toy is splash-proof and submersible and also comes with a USB charging cable and a satin storage pouch. 
Fantasy for Her Ultimate Pleasure by Pipedream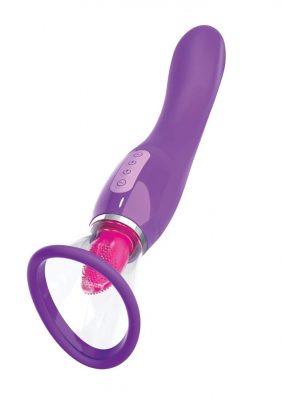 This toy costs a pretty penny, and for good reason. This is a multifaceted, double-ended toy that has something for everyone. Similar to the Destiny by Maia, one end sucks and vibrates around the clit with a fluttering tongue for extra stimulation, while the other end acts as a vibrating g-spot stimulator. Unlike the Destiny, the tongue on the Fantasy for Her does move on its own with 7 different tongue motion/vibration patterns. The toy comes with two different suction attachments which are interchangeable and has 3 suction patterns. Because the toy operates with 4 different motors, you can experience the suction, tongue flutter, and vibrations on either end independently or simultaneously. Because this toy is so versatile and powerful, it will become your new go-to. The Fantasy for Her Ultimate Pleasure is splash-proof and waterproof and also comes with a vaginal pump attachment, nipple pump attachment, one tongue sleeve, and a magnetic USB charging cable.
This 3-in-1 toy allows you to experience vibration, suction, and a tongue flutter all at the same time or separately. With 15 vibration patterns, 7 suction intensities, and 4 tongue flutter speeds, you can customize your pleasure to your exact specifications. The handle is also designed to fit perfectly in your hand and make it easy to switch between functions without any difficulty. This toy is rechargeable and has a 1-year warranty. It comes with a storage pouch and a USB charging cable.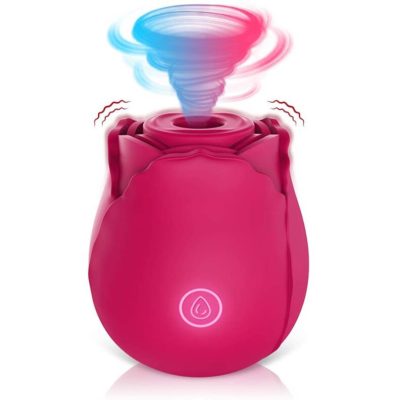 You've probably seen this toy all over your TikTok feed, and that's because this toy is as powerful as it is cute. This toy is an adorable rose-shaped beauty! The small size makes it easy to carry without any worry. It's also made of silky smooth, body-safe silicone for the maximum amount of comfort. It has 7 sucking patterns using a combination of airflow, vibration, and suction to help you reach your climax faster. It is splash-proof and water-proof for up to 30 minutes, meaning this toy is perfect for the shower or bathtub! It's also USB rechargeable and comes with a magnetic charging cable.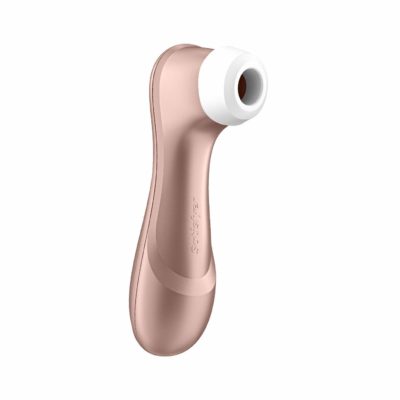 An upgrade from the Pro 2, the Pro 2+ combines pulsations and vibration to give you a powerful stimulator. Now you can experience the 11 pulsing, sucking stimulation patterns along with 10 vibration patterns. While this toy is designed to give you the best of both worlds, you can also experience the sucking and vibration separately. The thick silicone ring around the nozzle makes it easy to target your clit. This nozzle is also removable for easy cleaning. This toy is rechargeable and waterproof and comes with a 15-year warranty so you can keep using this toy with no worries. The USB charging cable is also included.
Check out some of my favorite, recommended clit suckers to find your next favorite toy! Just click any of the links to buy and support your local sex toy store. All purchases from our online shop will be shipped in discreet and inconspicuous packaging.