Have you heard that saying before? The couple that plays together stays together. It might sound a little cliche but I wholeheartedly believe in maintaining the intimacy in relationships. Life gets in the way, A LOT. Days and occasionally weeks go by *sigh* and I realize we haven't had sex!! Are we still attracted to each other? Sure. Do we still want to jump each other's bones? Sure. But sometimes this chica is TIDE.  New sex toys to experiment with or pulling out an oldie but goodie gets us right back into our "sweet spot" in the bedroom. That, in addition to some calendar planning (I'll get into that in a later post). Today I'm going to share the couple sex toys that are currently seeing action in bedroom de la Harts!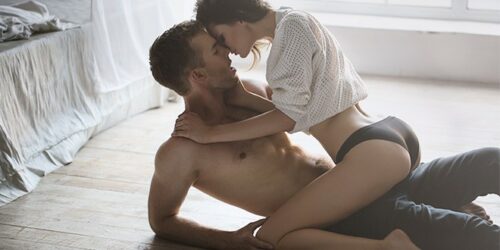 Vibrating Panties! Did you just raise an eyebrow? lol I love these for foreplay. Let me set the scene. You have the vibrating panties on as you head out for date night. While sitting at dinner you slide your partner the remote. Instantly the excitement is building! Through every course they are teasing you, changing the different pulsation modes, taking you alllllmost to ecstasy. You'll finish up at home. Or in the car, if you can't wait!!! Yes, this is from experience. Choose from the Screaming O Rechargeable Vibrating Panties , Secrets Vibrating Lace Boy Shorts, and Secrets Vibrating Lace Plus Size Boy Shorts.
Hot Octopus Pulse III Solo and Duo! The Solo is a popular male masturbation sex toy. It's great for men with erectile dysfunction and those just wanting a great alternative to Mr handy. Use it with lube, without lube, as a stroker, or just have it pulsate on the head of the penis. The Solo can be used as a couples toy by stroking the partner wearing it but I like using the Duo for couples play. The Duo looks like the Solo except the hard plastic is replaced with soft silicone equipped with another motor and a remote. While the Duo is on the penis (or a dildo using one of our strap ons such as the Joque), the woman partner can grind, or as I call it "hunch" lol onto the Duo. Either partner holding the remote controls the top motor. I love using this to get the Mr into a hard state from flaccid real quick and jumping into our foreplay, before heading on over to the main course. Check out the Solo and the Duo and see what intrigues you the most.
Magic Wand, Rechargeable! People sleep on wands as multiple use pleasure toys. Wands are THE BUSINESS! The Magic Wand definitely doesn't disappoint. Have you ever heard jokes about the "Hitachi". I know it was used in the show Seinfeld. Yes, I love Seinfeld, don't judge me. Anywho, Hitachi was bought out by the company Magic Wand, so it's been around for over 30 years. I use my Rechargeable Magic Wand for massaging my neck and back but I have the most fun with it as a foreplay sex toy with the Mr. I love when he teases my nipples, small of my back, and of course clitoris. Since it's cord free we don't have to be on the edge of the bed close to a plug. This wand is going to take partner play up a notch also. Sometimes I'll leave the Magic wand between us during missionary or hand it to him to use in the doggy style position to tease my perineum area or clitoris. The options are only limited by your imagination.
Gladiator! I wish you guys could hear me squeal as I just typed the name of this sex toy!! I rarely keep the toys that I try out in my nightstand, but this baby is tucked away in it's storage bag, charged, and ready to go. First, I love toys with remotes. And I love that this remote is rechargeable in addition to the unit itself being rechargeable. Let's get into it. The Gladiator was really easy to get on the Mr's penis. With a little water based lube it slid right on. The feeling of both motors, one stimulating my G spot and the other massaging my clitoris was pure bliss. BLISS y'all!!! I had him sit still while I tried out each of the ten modes, before letting him get some good stroking in. Mode 6 is by far my favorite, and always the setting for climax.
You can see a long list of these and other great couples sex toys and accessories HERE