Let me be 100% direct and honest with you!
Dinner dates can get old, use vibrating panties to take date night to a sexy level!
One of my most memorable date nights was when I was gifted a pair of vibrating panties. This was years ago, before I became a self -proclaimed Dildo Wrangler lol.
"I will neva, eva, eva, eva, forget that orgasm!"
Right in the restaurant he slipped me a bag and said, "I got you a present." I was told to go into the bathroom and put them on. Ooooookayyy…..
*Insert immediate pussy wetness*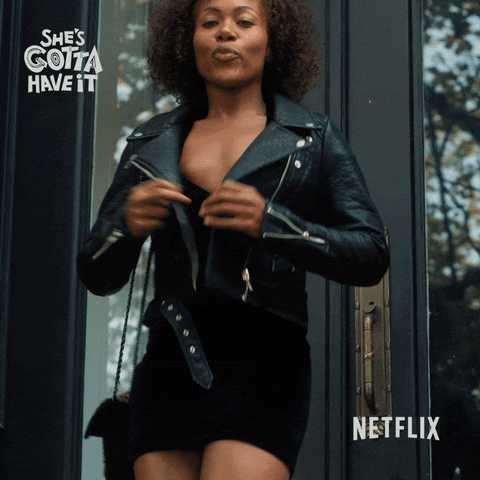 Vibrating Panties 101
I did as instructed. I put the panties on, took a deep breath and went back to our table.
"I was so horny by the time we left, we went straight to the car to get a lil nastier!"
Then I had to go back to the bathroom because I didn't know I had to turn the bullet on. Duh! LMAO Then the fun began!
He would randomly set it off, especially when the waitress came to the table.
I would look at the random people sitting around me to see if they noticed I was getting my rocks off right before their eyes.
Honey!! The feelings were indescribable. It was a mix of actual pleasure, doing something I've never done before, and being pleasured right in the public view. It was funny, at times, and definitely sexy. He played with the remote trying all different pulsations and speeds until I couldn't take it anymore!
I will neva, eva, eva, eva, forget that orgasm!
I was so horny by the time we left, we went straight to the car to get a lil nastier!
Check out my vibrating panties review below!
Vibrating Panties: What to Choose
Whether you're looking to tease or be teased by your partner or just go for a hands-free solo experience, vibrating panties can be a fun way to try out something new.
Here I go over a few of my favorites!
Vibrating Boy Shorts
This line of boy shorts from Secrets are perfect for the "cheeky" look and they come two sizes:
The Secrets Vibrating Lace Boy Shorts w/ Remote's one size fits most vibrating panty: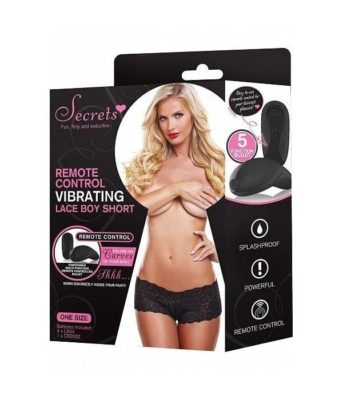 …and the Secrets Plus Size Vibrating Lace Boy Shorts w/ Remote plus size vibrating panty (I like that this bullet is curved and lays against my clit nice and snug):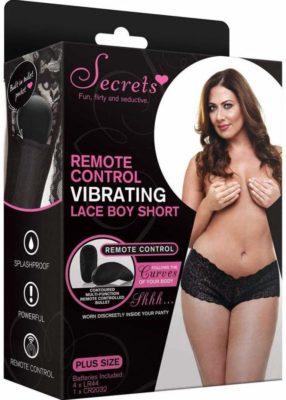 Both kinds of vibrating panties come with:
5 different pulsation modes
A remote control
Included batteries
Take 15% OFF any vibrating panty with code HOTPANTIES!
Rechargeable Vibrating Panties
Some people love rechargeable toys, myself included. This side tie panty fits up to a 60″ waist so it fits a wide variety of bodies. The bullet has 10 different vibration modes, rechargeable, and waterproof. I can't think of a reason I'd wear my panties in water but it's good to know that I can use the bullet separately in the tub. The remote is very secret squirrel like being that it's a ring and not handheld. Find it here. Side tie Panty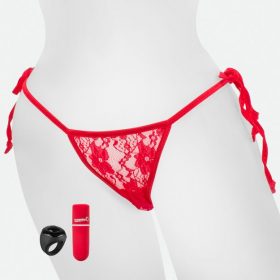 My new favorite is the Pan-t Vibe. This one is special because you can wear it under your own sexy panties or lingerie. The options or endless. It was also the strongest in vibration for me. Eyes rolling in the back of your head strong! I really appreciated that you could truly adjust it to your perfect spot. I haven't tried it but you can also wear this one under a harness- a little extra pleasure for the giver.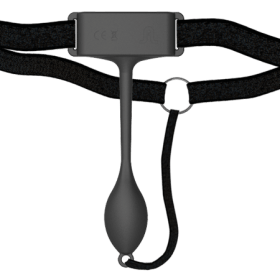 App Controlled Stimulator
In my review video, I talk about the Lush G-spot app controller stimulator. You can use the Lovense Lush 2 G-Spot Bullet Vibrator for solo play or couples play in the bedroom. Connect your device to the application and enjoy the vibrations from any pattern you choose.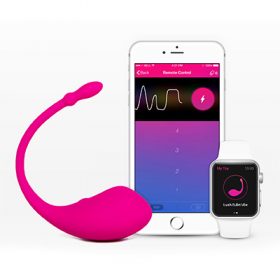 Take 15% OFF the Lovense Lush 2 G-spot bullet vibrator with code HOTPANTIES!